LandCare Leverages Internal Talent for New Leadership Roles in the West
Monday, January 18, 2016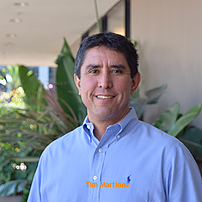 "Tim has excelled in building and growing teams, improving financial performance and has exemplified our core values even before we were able to articulate them," commented CEO Mike Bogan.  "I am excited to have Tim in this new role and look forward to his leadership on the executive level as we continue to build LandCare."
"I can feel a wonderful energy and vibe from our Teams in the West.  LandCare's rebranding efforts and capital improvements have been a welcome change that is improving morale and instilling a sense of pride within our organization," reflects Martinez.  "Our greatest opportunity in the next few months will be our teams' ability to translate that energy into our quality of service to our clients.  By embracing and living our core values, LandCare is laying a solid foundation on which to build a brand new company."
Whenever possible, LandCare promotes from within, to ensure consistency of leadership and continuity of business processes. Along with Martinez, the company has appointed new regional leadership from the existing branch manager ranks.
Don Cully will lead the L.A. Region, consisting of Simi Valley, Canoga Park, West L.A., Culver City and Pasadena. Serving the Culver City branch as manager since 2009, Don brought his past experience from Cintas to LandCare and quickly assimilated to landscape management. His success in growing revenue and operating profit while retaining his clients and building his team has kept his branch performing among the company's best. Don and his wife, A.J., have four children, including one graduate of the University of Redlands, another from Cal Poly San Luis Obispo, and one each at the US Naval Academy and US Air Force Academy.
"I'm excited about taking on this new role. The company has a great foundation and we are positioned well for a very successful 2016. We have a fantastic leadership team to support the region and I'm confident that my team will surpass expectations."
Stepping into the role of Southwest Region Manager is Martin McKenna.  Martin grew through the ranks at Fortune 500 retailers before joining LandCare, and has managed several branches since 2012. Martin has been an active ambassador for the company, growing LandCare's leadership team by attracting top talent. He is currently completing an MBA at USC and resides in Orange County with his wife Luisa and their two children.
"I feel privileged for this opportunity to serve the Southwest Region and help us continue on the path of profitability by developing leaders and creating a pipeline for talent to organically fuel growth," commented McKenna.  "It's not often in our careers we can tell a story where we were key players in helping an organization achieve World Class. The Southwest team is ready for that challenge!"
Rounding out the Divisional team is Jim Kelley, who will lead the SoCal Region, made up of San Diego, Escondido, Inland Empire and Palm Desert. Jim has spent his career in the landscape industry in San Diego, with regional and national industry leaders and as an entrepreneur. He is known for growing and building teams with high retention, revenue growth and operating profit. Jim led LandCare's San Diego branch in 2015, excelling in all respects and performing among the strongest branches in the company. Jim and his wife, Terry, reside in La Mesa, and have two daughters, the youngest a student/athlete (soccer) at Denver University.
"I am excited to work alongside an energetic team," commented Kelley. "and I'm looking forward to creating career opportunities through healthy, organic growth at LandCare."