Ladies of LandCare: Rachel Adams
Tuesday, March 13, 2018
Confidence, initiative, and self-motivation set Rachel Adams apart from the rest.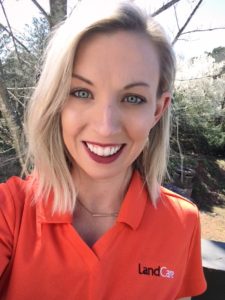 How did you get your start in the green industry?
Luck! I knew someone who knew someone, and that someone took a chance on me. I still thank him for looking past my lack of knowledge in the green industry and seeing potential in me. I entered into the most supportive, loving and knowledgeable group of guys (and gal!) I've ever met and would never be the business developer I am today without my team around me.
What, in your opinion, are the most challenging and rewarding parts of your job?
Being taken seriously. I came into this business not knowing anything about landscaping and had so much to learn. I learned how to say "I don't know, but I will found out for you" better than anyone I've ever met. However, the rewarding part about it is that I learned SO much because I had to find out the answer. In two years, I can proudly say that I have gained so much knowledge and it makes it so much fun (seriously, you can probably see me grinning!) when I know those answers that I have once before said "I don't know" to. You worry less about being taken seriously when you are confident in your abilities.
Do you have any advice for women who are currently looking for opportunities in the industry?
Take charge. My branch manager, Tre Hiltzheimer, reminds me weekly that I am the face of LandCare in Atlanta and that I will create my own success. Females in landscaping are rare and I think that's even more of a reason to want to work in the industry – we get to make a name for ourselves in an industry that isn't expecting us. Be bold, think outside of the box and have fun! We bring a totally different perspective to the landscaping industry and I believe that makes us incredibly valuable.
Who is your role model and why?
My dad is my role model. He has always had such a strong influence in my life. Growing up, he would be on the road a lot for his job but he always found a way to get home for our sports, plays, dances, etc. He worked harder than anyone I have ever met, but when it came time for family, he made it a priority to have special dinners with us or pull us out of school and play "hooky" so he could spend the day with us. Nowadays, advice from my dad is more career-related. His favorite thing to tell me is "Rachel, the best thing you can do is to get out of bed every day and go meet people. Go see your customers, go visit a new one, go find someone you've never met, take someone to lunch, go drop off breakfast. You'll never sell from bed." My dad retired from Wrangler Jeans as one of the most successful sales reps for the company. I will always admire his dedication to his family and his job for the 30 years he worked there.