LandCare Celebrates First CommunityCare Day
What's Happening at LandCare
Tuesday, October 13, 2015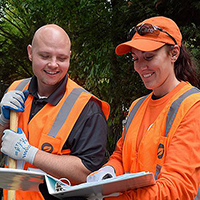 Greenbelt, MD –This month Staff from LandCare's Support Center joined the Baltimore Branch team to renovate the nature garden at Buddy Attick Lake Park during their first annual CommunityCare Day.
Buddy Attick Park is a favorite venue for community picnics and offers residents playgrounds, walking trails and fishing. They also have a native plant identification area that is used by many school groups for learning and fun. Lately the native plants have been pushed out by invasive species, leaving the beds choked with weeds and the walkways by the lake overgrown and inaccessible.
TruGreen LandCare Changes Name to LandCare
LandCare in the News
Wednesday, June 3, 2015
"Refreshed brand is driven by a strong culture"
IJAMSVILLE, MD – TruGreen LandCare announces a name change and a refreshed brand. The company will now operate as LandCare.The brand was developed with input from branch teams, who participated in an intensive discovery process aimed at uncovering the core values that drive success across the company. In a series of branch visits, new CEO, Mike Bogan, met with several hundred team members across all 50 branches, who collectively articulated a set of core values that are at the heart of the new brand.